Radheya: "I have always loved skills, it was my favourite part of football"
I think all you guys know him, Radheya is going very good on the gram these days. Do you want to know how he experienced the journey so far? Take a look at the interview we made with him.
Radheya can you introduce yourself to the people?
My Name is Radheya I am 24 years old. I was born in England and lived the majority of my life here. I have always had a passion for football since I could walk. I have been playing for football teams since I was 6 years old. When I was 10, I moved to Sydney, Australia with my family and played 11 a side football there at the highest level a youth footballer can play. At 12 years old is when I really found my passion for skills and freestyling. I have also been playing 5 a side football since I was 11/12. And I enjoyed playing it the most because it's a faster paced game where I could express myself with flair and skills. 
At 14 I came back to England to live with my Dad and I continued to play 11 a side football and 5 a side. I would practice my skills and freestyle also in my spare time. 
From 16-21 years old i played semi professional football and professional football abroad, I played in Spain, Thailand and Australia which was a great experience. When I played football the most exciting part of it was skills and nutmegs for me. I came across street footballers / Influencers on Instagram and saw what they were doing. I then made a decision to focus on street football/ freestyling instead of football and that's what I am doing now. 
Where began the passion for street football?
I have always loved skills, it was my favourite part of football. I was always into freestyling and futsal too, so that bought me to street football / panna around 3 years ago and that's how I made the transition from football. 
How is it to film video's with Jack Downer (street_panna)?
As soon as I met Jack, I could see we would be best mates. Filming and training with him is a pleasure, I love it. We are both very determined and are always looking to improve. I really enjoy being with Jack he's my brother and whenever we are together, we have a good time. He has helped me a lot in the last year with getting adverts, street football opportunities and showing me new tricks. I will always be grateful for this. 
What is the sickest thing you did in street football?
Representing the UK in the 3v3 Ronaldinho global street team tournament and doing a couple of adverts this year with Adidas.  
We see a lot of sport sessions in the gym, how important is that for you?
I love training, when I was playing football, I had to improve my physical strength. So I have been training in the gym for about 6 years a now. I mainly do bodyweight training which I really enjoy because there are always ways to improve and better yourself. Believing that being stronger will help with street football and Futsal so this will also help me with that.
Check out our sick interview with SoufSkills where it all began for him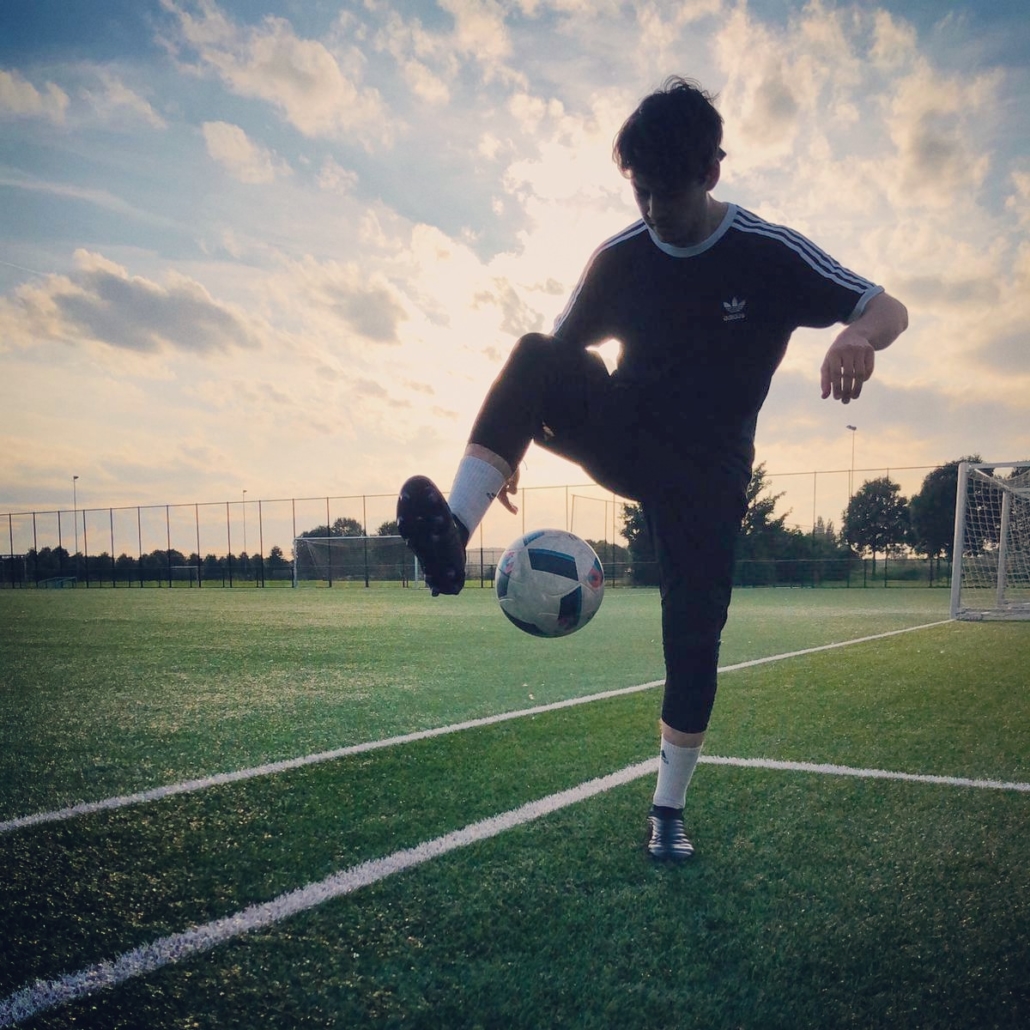 We also see that you are a plant-based athlete, can you tell a bit more about that?
I have been a vegetarian since I was born. In the last couple of years I have been practicing a plant-based diet which I have enjoyed doing. Really I believe that eating healthy can affect the way you think and feel so monitoring what you eat is very important.
What are you goals in street football and further life for you as Radheya?
I want to keep improving as a street footballer/ freestyler. I want to become the best that I can be and do it as a full time Job. Also, I want to get back into Futsal in the future so let's see what happens with that.