World of Street Football is BACK! Even in the current COVID-19 crisis we want to offer the street football, panna and freestyle scene what they deserve. We'll organize this years edition during the Rotterdam Street Culture Weekend (#RSCW) but in a different way than you're used to to keep it safe and responsible. Here you can find all elements and the planning of what you can expect.
SATURDAY THE 12TH OF SEPTEMBER (15:00-20:00)
OPEN DUTCH CHAMPIONSHIPS PANNA KNOCK OUT (AGE 8-17)
Want to test your skills against the best ballers? Register for the Open Dutch Championships! Here you'll battle against players around your own age in 3 minute Panna Knock Out battles.
What do the winners take home? Honor, a lot of respect and € 250 each!
Haven't registered yet? Do it now before it's too late! Click here to register.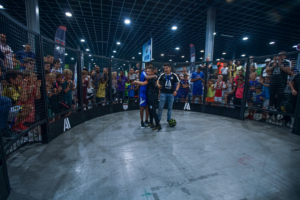 SUNDAY THE 13TH OF SEPTEMBER (12:00-20:00)
PANNA KNOCK OUT WORLD FINALS
The game Panna Knock Out doesn't need any introduction and street football's finest players from all over the world will represent their country this tournament. Who you can expect? Heavyweights like Kristoffer Liicht, Ahmed Rakaba and Easy Man.
The winner takes home the Golden Award, € 1.000,- and a whole lot of respect.
INTERNATIONAL FREESTYLE KNOCK OUT CHAMPIONSHIPS
Freestyle is the art of juggling a ball in every way possible. This sport is taken to new levels the past few years and mind-blowing tricks and combo's will be seen during the International Freestyle Knock Out Championships. Will recent Superball champion Jesse Marlet defend the Knock Out title he earned last year?
ROTTERDAM STREET CULTURE WEEKEND
World of Street Football is part of the Rotterdam Street Culture Weekend that will take place from September 11th till September 13th 2020. With international and home grown street art and sports, Rotterdam breathes street culture! Check out www.rotterdamstreetculture.nl
SPECTATOR INFO
Due to the COVID-19 measures of the government we can't allow players or spectators above 18 years old. We're truly sorry for that but we have to respect this to fight the virus together. We have to do an ID and health check at the entrance.
PARTNERS
We wouldn't be able to organize WSF without our partners. Thank you!