Rakaba winner Ghetto European Panna Championships! 
©Facebook Ghetto Football
After months of preparation it was finally time for the European Panna Championships of 2019. Organised by Ghetto Games and supported by Pannahouse and Panna Knock Out, the tournament took place at the crazy stadium Grizinkalna Plats in Riga Latvi. With many skillers from countries like the Netherlands, Belgium, Germany, Denmark, England, Poland and Latvia it became a high-quality tournament with a suprise winner!
During the summer months every week two events take place at the Grizinkalna Plats in Riga. The events are not only based on Ghettofootball but also on Ghettobasket and Ghettofight.
Concept
For the first time Ghettofootball organized a European Championship. Annually they have been organizing 3vs3 tournaments in Riga for local street football players and currently they are also focussing on 1vs1 tournaments. In collaboration with Pannahouse and Panna Knock Out, more than 30 top street football players took part in this event.
The tournament
The championship was split into two categories, U15 and 16+. The final at the U15 tournament was a triller between Rawi Miled from Belgium and Zans from Latvia. The match ended up in a draw. After the sudden death it was still a draw! A golden goal had to decide the Champion…. After scoring the golden goal Rawi became the Champion!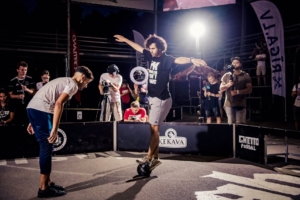 Winner
Ahmed Rakaba from Germany became champion at the +16. His road to the final was hard. In the quarter final Ahmed beat legend Easy Man, who won from Mehdi Amri in a tough game in the 8th final. In the half final Ahmed defeat another legend, Gypsycph from Denmark. Ahmed's last victim was Ferjani Safi in the final.
Love and respect for all the players who participated on the tournament, hopefully we will see you guys next year again!
Nice detail, this was the first tournament in which Rakaba participated!