Youniceff: ''The end of the chapter Belgium's Got Talent, up to the next chapter!''
Youniceff, participant of Belgium's Got talent, went straight after his first audition by the golden buzzer to the live show. Unfortunately, the adventure end after the first live show, it brings Younes a great adventure where he's proud on he has achieved it.
Too bad you're not through, but this adventure was a really nice experience for you, how did you experience this adventure so far?
It was a unique and great experience for me. I can't compare it with my other performances I did before. Working so hard on a choreography for four months. I was happy that I finally performed it in the studio show. Although, I have trained for four months on the choreography, I only got three days to practice with the spotlights and smoke on the podium. First, it totally failed, but it went much better the longer I practiced. The day of the live show was great, everything went well. I received a lot of support from the audience during the broadcast. I was not selected by the jury, perhaps the audience could vote too. Unfortunately, this went not well. It was okay for me, because my show was one of the hardest of all studio shows. I had a lot of competitors, but also very sympathetic opponents. I wish them all the luck!
What have you done in your last show? 
I made an act all by myself for the studio show. First, I started with a nice freestyle routine performing on music. Then a fireball was rolled to me after 1 minute. This was made up in the form of a Monta Freestyle ball. Furthermore, I showed some tricks with the ball and ended very controlled. It was all on music.
Check out the interview from Futsal player Jaimynho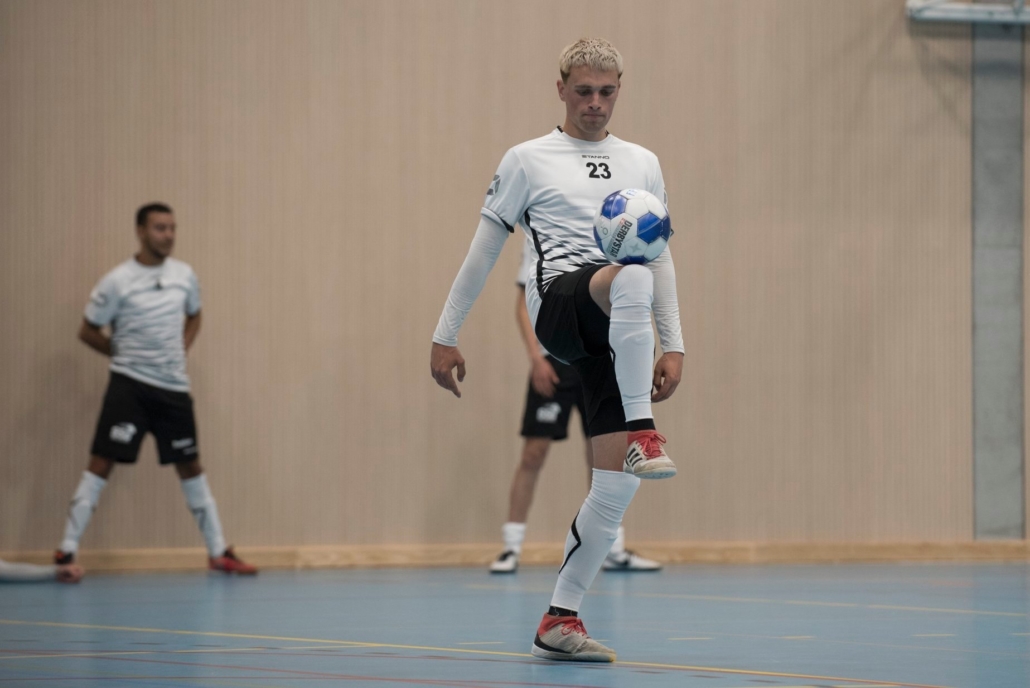 How reacted the people on your show?
Everyone I talked with was very positive about my performance. They don't expect something like this. For them it was a very successful show. My goal was convincing people what freestyle football is all about. In my eyes, his was a success, people are more familiar with freestyle football now. My parents were very proud on see me performing in a live show. A very successful show!
How was it to perform in a live show?
It was unique, spectacular, but also very stressful show. I was looking forward to the show, but when it was showtime, I was really stressed because of the cameras, public and the jury. Also, because while practicing for the show it didn't go as hoped. Finally, the show went well, when I began all the stress was gone and I started enjoying playing in the live show.
Did you have gained some new inspirations whole the adventure for you as the artist Youniceff?
Yes, for sure! I learned some new show elements and choreography, something I can use in the future for shows. Also, my stage fright is totally gone, I can give a show without any stress. A really nice bonus for me!
If you take a look at the adventure, how is your feeling, do you have peace with it?
Well, it was for me a joke to register for the program. I prepared myself to win it, but how further I came, the more important for me was to let people more know more about freestyle football. I have peace with the fact that I'm not through. Especially, because I did really well, and I reached the semifinal. My show was good and I'm proud if I look back at it. It was difficult for me, because I was in the hardest group. After all I can say, it's beautiful how the adventure went.
What can we expect from Youniceff in the future?
Well, it's not the end for sure, but rather the beginning of a long and beautiful adventure for me. I never plan something, but I'm sure there will be nice stuff in the upcoming period. This was the end of a nice chapter, but now I'm ready for the next chapter of my book.