Throwback Thursday: World of Street Football Championships in Rotterdam!
In December 2013, the spectacular World of Street Football Championships was organized in collaboration with the municipality of Rotterdam. Some of world's best street football players, such as Sean Garnier, Jeand Doest, Ilyas Touba and Kristoffer Liicht, competed against eachother for the title. It became a stage for many Urban sports talents who showed their talent. All this took place at a great location in Rotterdam, the Maassilo.
There were different activities for all visitors. They could enjoy themselves in the skate park, enjoy dance and hip hop battles and of course participate in the World of Street Football Championships. Various national and international street football players came this day to participate on this unique tournament. There were many famous street football players from among others, the Netherlands, Belgium, France and Denmark.
The final became a true thriller between Easy Man and Ilyas Touba. The match was exciting and with a score of 4-4 it seemed that Touba would draw the match to himself by scoring twice in a row with about 1 minute 30 left on the clock. This was the time for Easy Man to force something and with a awesome Akka Panna he killed the final with a Knock Out!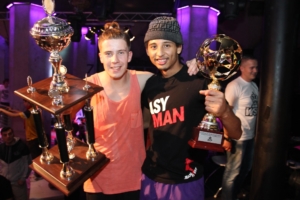 It was a crazy day full of discharge, respect, tears of happiness, skills, fighting spirit and adrenaline. The final was a good example of this!
Check here the legendary final between Touba vs Easy Man
This post is also available in: