Throwback Thursday: Homeless World Cup 2018
Picture: Ole Christian Eklund
The Homeless World Cup is organized every year, with a different host country each year. Teams from all over the world come to this event and everyone represents their own country with a lot of passion and pride. Lives are being changed from the first edition of this big tournament. The great work that national partners are doing will be celebrated during this tournament. Individuals are looking for a better future and the tournament is a powerful tool to change the perception of the public.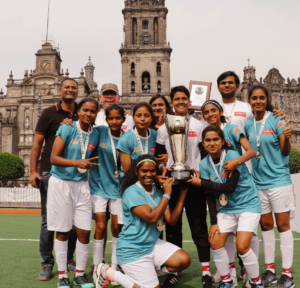 Picture: Maggie McCutchan
Last year the Homeless World Cup took place on the Zócalo, in the heart of Mexico City. It was one of the biggest editions in the history of this tournament. A total of 450 players from 42 countries participated. The Zócalo was completely transformed into a six-day festival of football. The stands were filled with hundreds of thousands spectators throughout the week who did not want to miss the spectacle. In addition, there was an online reach of millions of people.
The tournament is divided into different levels of competitions. This makes it fun for the spectators to watch. Because of these different levels, the competitions are exciting and full of passion. On the last day, each team earns their final position. This in turn affects their ranking for the tournament the following year.
In total there were seven trophies this year: five for the men's competition and two for the women's. The Homeless World Cup and Women's Homeless World Cup trophies are the main prices, both were won by Mexico, the host county.
Picture: Daniel Lipinski
This tournament is every year a big spectacle full of passion and enthusiasm, not only for the participants but also for the visitors. In 2019 the Homeless World Cup will take place in the capital of Wales, Cardiff.
Check the Homeless World Cup website for more information about this great event!
This post is also available in: