THROWBACK THURSDAY: AMAZING ENGIE STREETHEROES FINALS IN STROKAR!
On Saturday 13 October, the ENGIE Streetheroes Finals took place in the perfectly fitting location Strokar Inside in Brussels. This spectacular tournament is called the Belgian Championship Panna. All street football minded boys and girls from the Belgian community were present to compete with each other. The ultimate goal is to become the best of the country, divided over the different categories. The most notable part were the new rules of the matches to make it even more attractive!
Every year, Sportizon and Pannastreetz organize the Belgian Championships Panna. In order to participate, the players had to qualify through the qualification play-off rounds. These rounds took place in various cities such as Antwerp, Mechelen, Kortrijk, Liège, Ghent, Brussels and Genk.
To 'force' players to show their skills and play 'face to face', the results were not only determined by ordinary goals. In a regular game, you will win the game if you destroy your opponent with a panna, or score the most goals within three minutes. That was different from now on.
The jury, consisting of Belgian top streetfootball players Mohamed '10' Reda, Hakim Amraniand Elias Tadili, judged the players on skills and fair play. The legendary Issy Hitman was also present as a skill judge. After each match, the winner was chosen based on skills, sportsmanship and goals. The final winners of the Engie Streetheroes Finals were Evrim Nallar (16+), Mehdi Amri (U16), John Ngarukiye (U13) en Dounia (Girls)!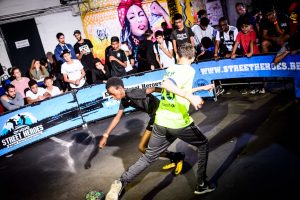 Besides the Belgium Championship Panna, the Red Bull Freestyle finale took place later this day. The winner of this event was Yassin Coyote. By defeating all-time legend Soufiane Bencok, he is qualified for the big international final next month in Poland! 
Another nice highlight of this day was about the streetfootball legends  Issy Hitman and Soufiane Bencok. They provided a spectacular 2vs2 demo against players from the audience!
Besides bringing out Issy Hitman – a true legend in street football – to the event in Belgium, Panna Knockout hosted the ICON, a revolutionary panna cage. Streetsoccer players had the chance to reach the highest score as possible in one minute with the game Maestro. The winner won a Monta prize package! 
Partly because ENGIE, who has been supporting street football in Belgium for several years. This year was another big success!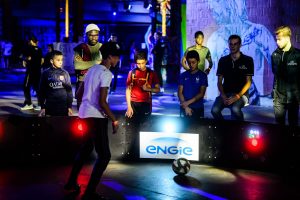 This post is also available in: