Street football players Ziyech en Promes excel in Champions League
After Ajax reached the semifinal of the Champions League last year. Where they were eliminated by Tottenham Hotspur. They also do good this year in the tournament. On the verge of hibernation in the Champions League they let the world enjoy their game too this year. The shiners Hakim Ziyech and Quincy Promes. Two footballers from the street. Who bring the skills learned from the street back to the field.
Street football players at Ajax
 Both started on the street. Became big players and now two key players for Ajax and their national team. The two brings the skills from back in the days to the field. They show you that flair people want to see. As Edward van Gils recently said about Ziyech: ''He brings the flair back into the game, he let me enjoy it!'' Outside of enjoying the street football community. He also makes the fans from football more than enthusiastic. Both players, Promes and Ziyech, let Ajax excel on a high level, where the world watch.
Read also more about the event of Streetkings where legend Ronaldinho was presented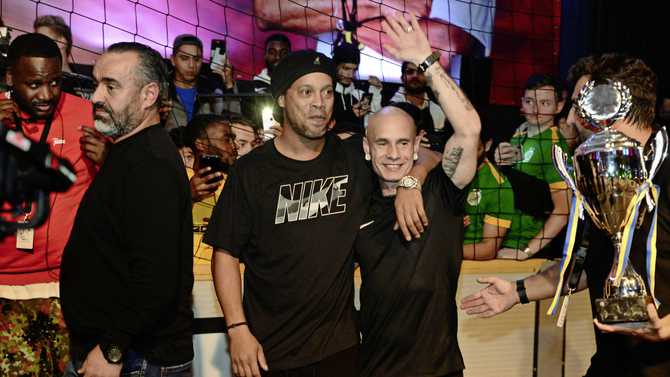 Chemistry between Promes and Ziyech
If you take a look at the two football players, you see a strong chemistry, what produces a high productivity. Many assists and goals made by the two of them. This is also often at the behest of the other. Ziyech assisted the last five goals of Promes. Usually on their characteristic way Ziyech assisted Promes by playing the ball behind the defense. Here Promes tipped the ball inside. Even outside the field the chemistry between the players is more than good. This seems to be paying off in the field, where the pleasure of both 'street footballers' radiates.
Idols for the street
You can see that Ziyech and Promes are two idols for many people. When they arrived by train at Lille, people screamed the names of both players a lot. In the match between Lille and Ajax a made an attempt to meet his idol, Ziyech. You can see the footage below in the pictures. A wonderful gesture from Ziyech, how he deals with the boy. Help him to escorted him to the security. After the game Ziyech gives his shirt to the boy. You can see how big Ziyech is, if people do things like this.
Began as street football players. Currently the stars from Ajax and their national team (Dutch and Morocco national team), but above all two fantastic footballers. Who get along well with each other. We hope they can bring the flair in the game for a long time. That we can all enjoy that.