Wijnaldum Cup during great opening of Cruyff Court Wijnaldum in Schiemond!
Two weeks ago he won the Champions League with Liverpool, now he is back in Rotterdam to be at the opening of his own Cruyff Court. Wijnaldum was present with his friends, family and 250 local residents, to make it a grand opening.
The field was opened officially after Wijnaldum showed some of his crazy football skills and playing a game of FIFA against alderman Sven de Langen. Wijnaldum had to score with his own team Liverpool against Feyenoord. However, the controllers were turned around and Gini scored with Feyenoord against his current club Liverpool. After this, the Cruyff Court officially renamed to the Cruyff Court Georginio Wijnaldum.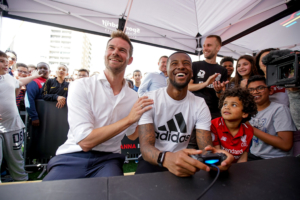 A lot of kids were present during the opening, among which the kids of the old primary school of Wijnaldum. The children could participate to different football activities like the ICON and Precision Wall, which makes the children move in a fun way.
During the opening, several football shows were given and the children could compete against two-time world champion panna, Easy Man, in the panna cage. Besides that the kids could take a picture with Wijnaldum and the Champions League Cup! Wijnaldum brought the Cup with the big ears from Liverpool special for the opening.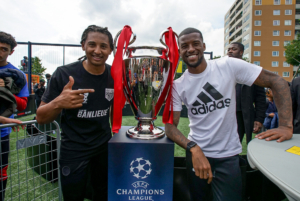 After the official opening, Panna Knock Out organized the first edition of the Wijnaldum Cup. Youth could compete against each other in a 1vs1 Panna Knock Out and 3 vs 3 competition tournament.
The finals were played around 7 pm. The final in the 3v3 went between. It became an exciting pot that ended up in a draw. After the extra time, there was still no winner and this meant that the MVP of both teams had to compete against each other in a 1 vs 1. After a long final, TOS finally came out as the winner.
The day ended with a spectacular final in the 1vs1 competition between the El Jackson's, Anass and Karim. It became a crazy high scored match, that Karim won with 11-9!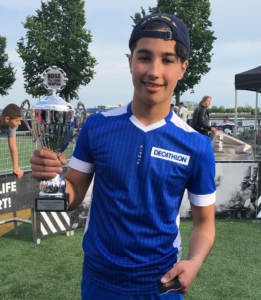 This post is also available in: