After WSF with Anas Boukami: ''I like to make a combo and finish with a panna!''
In the new serie 'After WSF' talk with the winners of World of Street Football 2019 Today we talk with the winner of the Panna Pro League, Anas Boukami.
Can you introduce yourself for the people that don't know Boukami?
Yes ofcourse! My name is Anas Boukami. I was born at the 30thof July in 2000, so I'm 19 years old. France is the place where I was born and live now. Since young I was a huge fan of video games, when I got a little bit older, I start liking football too. Besides that, I'm also a huge fan of fashion, I think you can see that!
When did you started as a street footballer?
I started street football in 2015. After rediscovering dvd's from Komball since I was 7 years old. So, I liked it since I was young.
Where began the passion?
The passion began when I was watching a lot of street football videos on YouTube. But also watching the games and skills from the legend Ronaldinho. So, I tried to do the same as him, but I tried to push it to a superior level of technique. That's the when I started focus on the tricks.
What is the favorite trick/panna from you?
I don't have specifically a favorite trick or panna. I just like to make some crazy combos. Important is it to finish it with a great panna.
What are your thoughts about the new Panna Pro League concept?
I did really appreciate the concept. Besides that, I did discover it when I was with the S3 and Street Lions in Holland for filming a Panna Pro League video. I played here against Soufiane Bencok and Jeand Doest.. Great experience, so I was already familiar with the concept, but it's a great idea. Because beside the World Champion Panna with goals, you do have a World Champion without making goals, but only panna's. Great for the game!
Read also the article of 'After WSF' with Youth World Champion Jassim Mazouz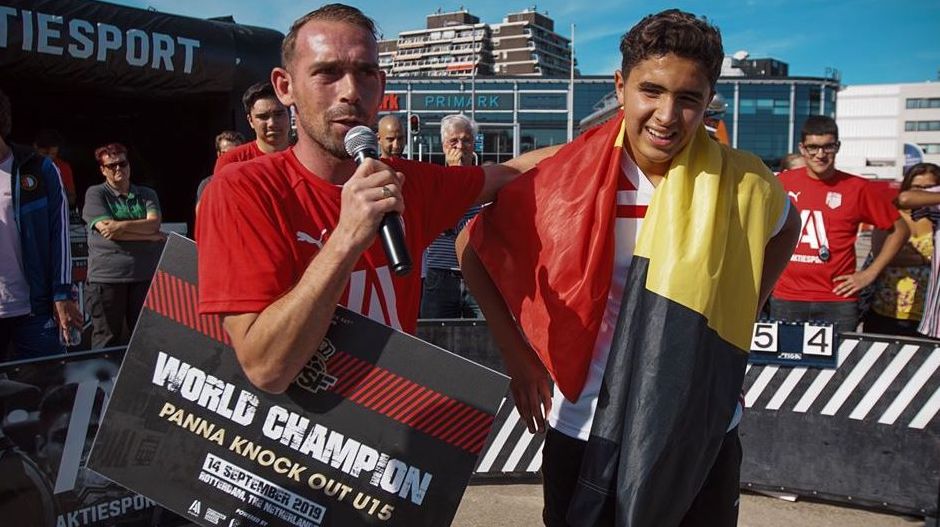 How did you experience that you, Anas Boukami, won the Panna Pro League on WSF?
It was really cool. I'm really proud to be the winner of the first edition of the new concept, Panna Pro League. It was good for me that I played against players from the same age, but also against players from the older generation, like Rakaba.  
What are you goals in life?
My main goal in life is simple, doing what I like to do. For this moment, I do like training on street soccer, to travel around the world to show my skills in the future. For now, I also like to play more street football then I can play now. But above all, I like something new, to create new fashion things would be great.