Adam Ch09: "I want to highlight the artistic dimension of freestyle"
Today we talk with Adam Ch, a street footballer with a big passion for the street and the artistic dimension. He wants to express that with sick content, in this content he brings the main focus at the artistic dimension of freestyling.  
Try to describe yourself  'Adam'  in a tweet with 140 characters?
I'm Adam Ch, 18 years old and a street footballer. Dribbling is what I love to do since I was little. I like it to control the ball with flow.
You're of course a street footballer, but how did you start?
I started because some street football legends inspired me. I talk about legends in the scene as Soufiane Bencok and Sean Garnier. These legends motivated me to do something like they do. So, I did, in my way, with my own flow. I am also grateful to Rodrigue, the man brought me back to the Belgian crew. This let me see how much confidence he had with me.
We do see some cool videos made by you for yourself and people in the scene, where started this passion?
I always liked nice photos and videos and I've a passion with for this. I always try to share this passion for photos, videos and sport with my friends. This will always create a connection between us. That's why I made some videos for friends, I like to do that. Streetlove is always the most important in the videos. Below you see some of those videos made by Adam, insane video!
Is this something you like to do more in the future?
Yes! Our sport is so exciting and well represented. I really like to show the artistic dimension in freestyle to the people. The style of the movements is really important in this, perhaps for me the most important thing.
Read also about Jassim Mazouz winner of the Youth Panna Knock Out Championships on WSF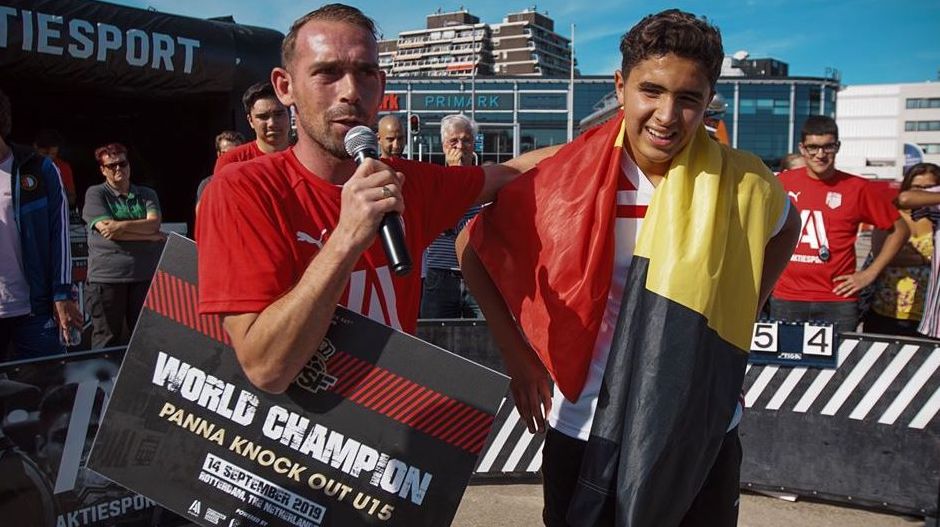 Is your goal to combine both passions, yes? How do you see that in the future?
Exactly! Making quality content from a certain level is something I want to do. I always trust on the street and the art of the street. That's why I always let the street come back in content. I'm also inspired by Tobias, a good friend of mine, he is doing very good work in this area. This motivates me only more and more.
What are Adam his goals for the upcoming period?
I train very hard, this to win to a major tittle in the future! Also, I have some commercial projects where I'm busy with. Important projects where I will give everything for, to do this as good as possible. Nice time is coming!
What are the things you're so excited for in the upcoming period?
I will start my own YouTube channel very soon. This channel is based on street football, clothes and physical style. The only thing is, I can't tell something about it. But no sadness, you can find it on my channel, soon! So, stay tuned!